First-Time Visits
Consultation days

Mondays - Saturdays (Except Sundays, National holidays and New Year holidays)

Please check the outpatient clinic list on Saturdays as the departments are limited.
Reception Hours
8:30 a.m-11:00 a.m
Consultation Hours

9:00 a.m-5:00 p.m




Our reception desk is closed at 11:00 a.m, although we are open in the afternoon, Some medical services may not be available depending on the days and the specialties.


Mental Health Clinic is performed by appointment only.
Consultations
Please talk to the general information desk if you are not sure which department you should visit, or you are not sure which department your symptoms apply.
New Patient Reception
Please pick up a new patient reception number. Fill out the required items on the Outpatient Medical Application

form.
Submit it along with your health insurance card (Including the Claimant Certification) and a referral letter and pick up the Patient Registration Card (ID card)

and reception slip. Please note that you will be responsible for your own expense if you don't submit your health insurance card (Please make sure to bring your health insurance card each time you visit us as we will be checking it each time you visit us).
If you are a first-time visitor or haven't visited us for a long time, you are recognized as a new patient. You need a referral letter from your primary health care center, or you will be charged extra as the initial medical consultation fee.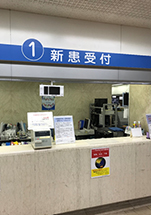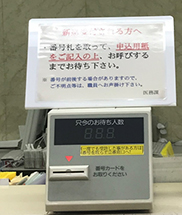 Please make sure to bring your Patient registration Card (ID card) when you visit us.
Your Patient Registration Card is for permanent use. Please keep it in a safe place.To reissue the card, we will charge 200 Yen (plus tax).
Consultation
Please pick up a patient registration card (ID card) and reception slip at the new patient reception desk, and wait in front of the each outpatient reception. Please follow your doctor's or nurse's instructions each time for an exam or X-ray.
Regarding the Non-Insurance Combined Medical Expense for the First Time Visit
If you don't have a referral letter when you visit us for the first time, or when you visit us again after your treatment is completed (cured) or stopped, we will charge a certain amount separately as a non-insurance combined medical expense.
However, recipients of the public expense healthcare system and recipients with severe mental and physical handicap medical expenses are not subject to this.