Introduction to the examination room
MR stands for Magnetic Resonance and MRI stands for Magnetic Resonance Imaging. There is also MRA (MR Angiography) which depicts blood vessels, and a test method such as MRS (MR Spectroscopy) which displays the spectrum of components in the biological material.
We have three MR devices, (East MR1, East MR2, East MR3) so after reception at the automatic return visit kiosk on the 1F, please come to nuclear medicine examination and the MR examination reception at the basement 1F. From the reception for nuclear medicine examination and MR examination, they will direct you to each examination room.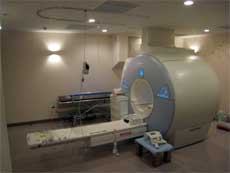 MAGNETOM Avanto1.5T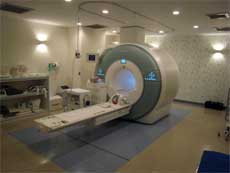 MAGNETOM Verio 3.0T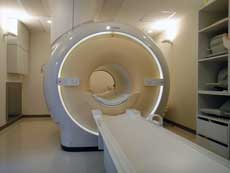 Ingenia 1.5T
Nuclear medicine examination and MR examination reception
| Examination Room | MR Equipment |
| --- | --- |
| East MR Examination Room 1 | SIEMENS, MAGNETOM Avanto1.5T |
| East MR Examination Room 2 | Siemens, MAGNETOM Verio 3.0T |
| East MR Examination Room 3 | PHILIPS Ingenia 1.5T |
Time for the examination
The examination will usually take 20 minutes to 30 minutes, and the examination for a special examination will take about 1 hour. In addition, the time will vary greatly depending on the examination site and the examination purpose.
In addition to the above examination time, the device will make some loud noises and the device is very sensitive to movement so please do not move even though it might feel clamorous.
Important Points
First, before receiving an MR examination, there are contraindications that it is not possible to undergo a MR examination. Thank you for your confirmation, since there are also matters related to human life.
If you have a surgical history where there was metal implanted in your body that is not compatible with MR (however, it is possible to carry out the procedure for surgeries that have been performed in our hospital since 1990)
Persons who have a device implanted in their body (cardiac pacemaker, defibrillator, cochlear implant)
Persons who have tattoos or permanent cosmetics (risk of burns)
Persons who have magnetic type dentures (the effect of the magnets will be lost (demagnetization))
Persons who are pregnant or have a possibility of being pregnant (please consult with your attending physician)
Persons who have an artificial eye which cannot be detached and is not compatible with MR
Persons who are wearing moisture absorbing, heat generating fiber products (e.g. Heattech)
Precautions before and after the examination are as follows:
< Before the Examination >
You will be asked to change into examination clothes and put yours in the locker (Please lock it and wait).
Take off any metal-attached clothing (fasteners, hooks, etc.)
Remove the affixed medications (poultices, magnetic therapy devices (e.g., Ereki-ban) etc.)
Remove jewelry and accessories (watches, necklaces, rings, glasses, etc.)
Don't bring in your wallet or cell phone.
Remove dentures, artificial eyes, etc.
Remove contact lenses (color contacts are contraindicated for MR)
Those who will have an MRCP that will be examining the gallbladder and pancreatic duct must not eat before the test.
< After the Examination >
There are a few precautions when using a contrast agent.
Although it is a very low possibility (less than 1%), there is a possibility of side effects (headaches, rashes, vomiting, etc.), so try to excrete the administered contrast agent in the urine by drinking a lot of water.
Patients who are breastfeeding are asked to avoid breastfeeding for 48 hours after the use of a contrast agent.
Contact information
049‐228‐3512 [Department of Radiology, Nuclear medicine examination and MR examination reception Direct]
Please feel free to contact us if you have any questions about the examination.
Please contact the department in charge if you are unable to visit the hospital on that day or if you have any questions about changing your reservation.