Introduction
The Department of Nutrition helps patients to heal by understanding the nutritional status of inpatients and providing appropriate nutritional management and meals. We also do nutritional counseling (tutoring and group guidance) for those who need it as part of their treatment. The work of the Department of Nutrition is roughly divided into the business of clinical nutrition management and the business of food service management.
Clinical Nutrition Management
Support for admissions and discharges

Nutritional Guidance Services

Personal guidance (general, diabetes, kidney disease, surgery, etc.)
Group guidance (diabetes classes, kidney disease classes, new father/mother classes, Karugamo gatherings, IBD classes)
* Nutritional guidance is conducted according to the doctor's instructions. Please consult with a doctor if you want this.

Nutrition management (jointly conducted by many professions)

Registered dietitian ward responsibility system

Participants in team health care

Nutrition Support Team (NST), Respiratory Support Team (RST), palliative care team, bedsore rounds, Medical team for metabolic diseases (MMT), foot care team, diabetes educational hospitalization, Blood Purification Center conference, Department of Pulmonary Medicine conference
Personal nutritional guidance
Diet treatment is part of the therapy. Therefore, there is guidance from a registered dietitian based on the doctor's instructions.
○ Appointments
Individual nutritional guidance is by appointment. We do not accept any nutritional counseling over the phone.
Please consult with a doctor if you want this.
○ Guidance days and time: Monday - Saturday (excluding holidays) 20 to 30 minutes per person
| | | | | | |
| --- | --- | --- | --- | --- | --- |
| AM | 9:00 | 9:30 | 10:00 | 11:00 | 11:30 |
| PM | 14:00 | 14:30 | 15:00 | | |
○ Location: There is a nutritional guidance room on the 2nd floor in the outpatient F-corner.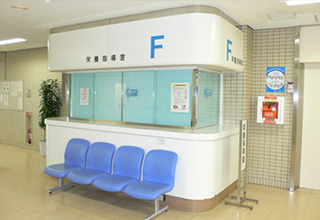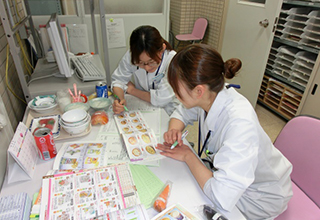 Personal nutritional guidance count
Group Nutritional Guidance
[Diabetes Classes]
We work together with physicians, nurses, pharmacists, clinical laboratory technologists and physical therapists to help patients with diabetes.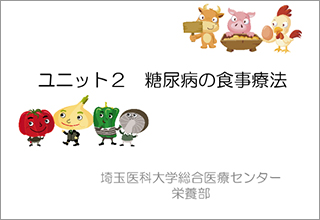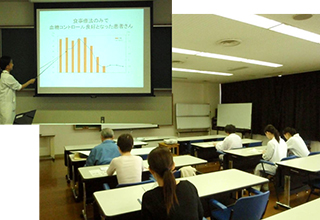 Diabetes classes
[Hospitalization for diabetes education (first week group guidance)]
| | |
| --- | --- |
| Target | 8th Floor West Ward,inpatients |
| Reservations | Needs to be requested by the physician in charge |
| Date and Time | Every other Thursday 10:00 - 11:00 |
| Location | 8th Floor West Ward |
Group Nutritional Guidance
[Kidney Disease Class]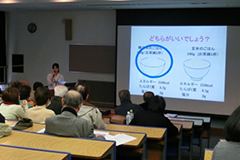 Kidney disease class
◇Hospital meal experience, meal content after the third class (only for those who wish)
Low protein diet for kidney disease (1 day energy 1,800kcal, protein 40g, salt 6g): 1 meal 800 yen (tax included)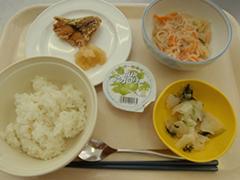 Sample menu
Rice
Deep fried mackerel
Transparent vermicelli with dressing
Daikon radish salad with vinegar
High calorie gelatin
* The menu will change daily.
[New father/mother class (pregnancy/nutrition series)]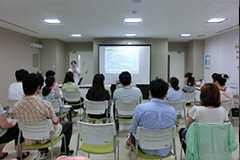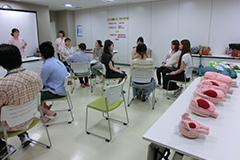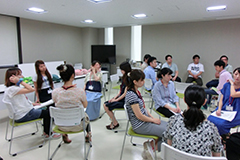 New father/mother class
[Karugamo gatherings]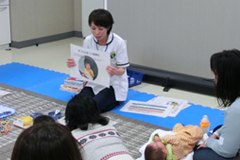 Karugamo gatherings
Regional support
▲ Kawagoe City Health Festival, Diabetes Free Consultation Meeting
Staff introduction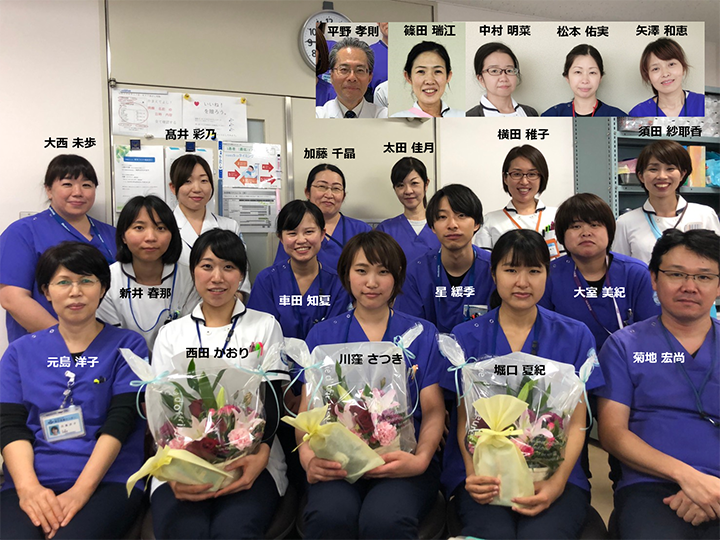 Hospital direct management registered dietitians, 15 people
Breakdown: 1 Department head, 1 Section manager, 2 Subsection chief and 11 others (1 person internal/NST dedicated)
[Acquired qualifications]

Pathology Nutrition Certified Registered Dietitians, 5 people
Nutritional Support Team Professional Therapists, 3 people
NST Coordinators, 2 people
Japan Diabetes Care Instructors, 3 people
Kidney Disease Care Instructors, 2 people
Saitama Prefecture Hepatitis Coordinators, 5 people
Certified Specialist of Registered Dietitian for Cancer, 1 person
Nutrition Management Export, 1 person
Circulation heart failure educator of japan, 1 person

Food Service Outsourcing Company

Registered dietitian, nutritionist, chef, cooking aid, and general positions, 70 people

Staff

15 full-time registered dietitians, 4 part-time registered dietitians

元島 洋子 Motojima Youko (Section Chief)
横田 稚子 Yokota Wakako (Subsection Chief)
菊地 宏尚 Kikuchi Hirotaka (Subsection Chief)
大西 未歩 Oonisi Miho
篠田 瑞江 Shinoda Mizue
松本 佑実 Matsumoto Yumi
大室 美紀 Omuro Miki
須田 紗耶香 Suda Sayaka
髙井 彩乃 Takai Ayano (Karugamo-no-ie)
新井 春那 Arai Haruna
星 緩季 Hoshi Hiroki
西田 かおり Nishida Kaori
川窪 さつき Kawakubo Satsuki
車田 知夏 Kurumada Chinatsu
堀口 夏紀 Horiguchi Natsuki
松﨑 綾子 Matsuzaki Ryouko
太田 佳月 Ota Kaduki
加藤 千晶 Katou Chiaki
矢澤 和恵 Yazawa Kazue
中村 明菜 Nakamura Akina
Food Service Management
Summary
Menu creation
Ingredient aggregation, ordering, food delivery
Cooking and serving (serving food and picking up food trays)
Dishwashing/disinfection
Preference survey
Conference on school lunches
Inspection documents, menu confirmation, meal count management
Kitchen equipment and hygiene management, etc.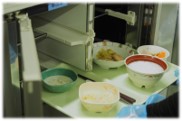 Food count management
Meal serving time
Breakfast is served from 7 am to 8 am, lunch is from 11:30 to 12:30, and dinner is after 18:00.
Characteristics of meals in our hospital
We offer meals in consideration of the age, gender and body type, and provide meals according to the guidelines for each disease state.
Our menu cycles tailored to the four seasons.
The tableware is earthenware (melamine for children) and heat insulating tableware is used.
Types of meals (approx. 120 types)
| | |
| --- | --- |
| By life stage | Provide the proper nutritional amounts for their age. |
| Energy adjusted meals | Calories are adjusted, such as for diabetes and obesity |
| Protein adjusted meals | Kidney disease/liver disease, etc. |
| Lipid adjusted meals | Pancreatic diseases, etc. |
| Sodium adjusted meals | Heart disease, hypertension, etc. |
| Swallowing problem meals | For those who have difficulty swallowing |
| Tubal feeding | For those who have difficulty with oral intake |
| Infant formula | Infants |
Number of meals
The number of meals per mealtime is about 730 meals. We provide patients with 800,000 meals a year.
Introduction of hospital event menu examples,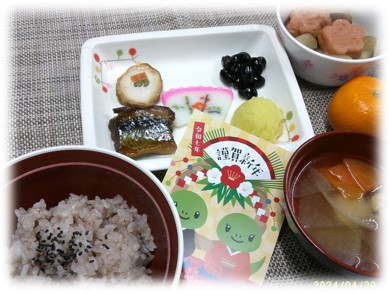 Hospital opening memorial day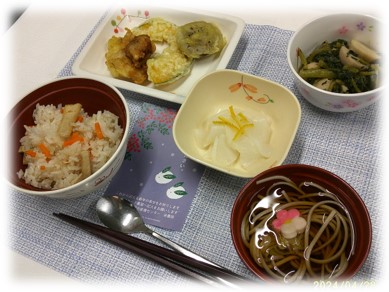 Tanabata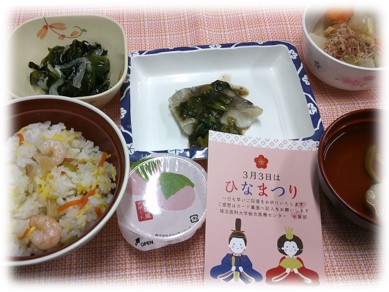 Doyo no ushi no hi (Midsummer day of the ox)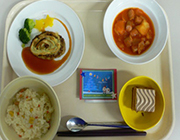 Christmas
Original menu
◇Paid event meals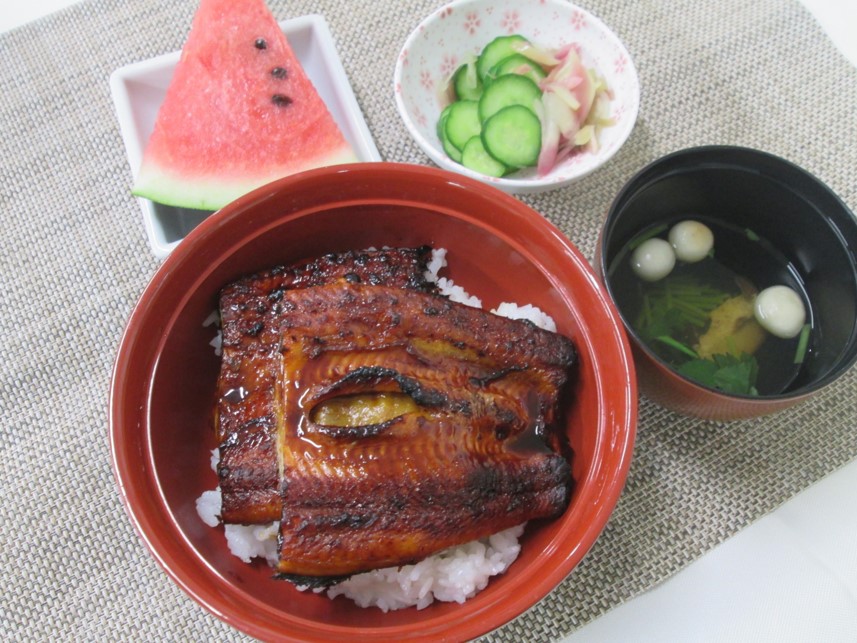 Doyo no ushi no hi (Midsummer day of the ox): Unagi-don (bowl of eel and rice)
Additional cost: About 1000 yen
◇Yamabuki gozen (Special postpartum meals)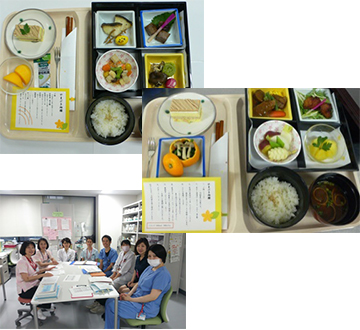 ◇Paid special meals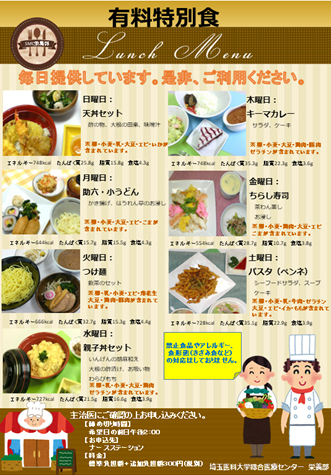 ◇Easy to eat meals (meals for those with poor appetites)