General Radiography/Breast
General radiography is an examination that expresses the amount of X-rays transmitted through the human body as a black and white image. This is also commonly referred to as x-ray photography, taking pictures of the bones and soft tissues (such as breast imaging), including the chest, abdomen, head and neck, spine and limbs. The imaging rooms are on the first floor in Radio-Imaging Diagnostics 1, imaging rooms X-1 to X-5.
Introduction of the imaging rooms
Applications and features of each imaging room
The systems of each imaging room
Our hospital has acquired "Digital Mammography Examination Facility Image Recognition" certified by the Japan Central Organization on Quality Assurance of Breast Cancer Screening. Accreditation is for a facility that satisfies all of the criteria required for breast imaging, such as images and exposure doses.
In addition, in our hospital, a medical radiologist who has the "Examination mammography photography certification" qualification is in charge of the breast imaging in order to perform a more accurate imaging.
Our equipment is a state-of-the-art device equipped with a breast tomosynthetic system.
With a conventional two-dimensional (2D) imaging, a lesion may be hidden in the mammary gland tissue or it may not be diagnosed due to the overlap of mammary gland tissue.
Tomosynthesis (3D) is a three-dimensional imaging method that can reduce the overlap of the mammary gland and visualize lesions more clearly.
* The following patients are required to contact the technician before getting a mammogram.
Those who are pregnant or may be pregnant
Those who have breast implants
Those who have a pacemaker inserted
Those who are breastfeeding (because the pressure can easily make the milk flow)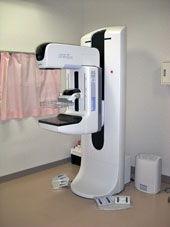 Selenia Dimensions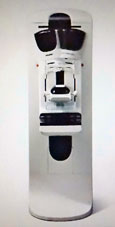 Tomosynthesis imaging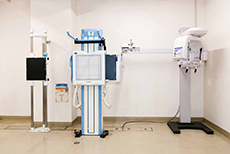 AeroDR Fine System (standing)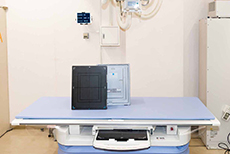 AeroDR Fine System (recumbent)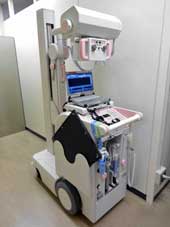 Mobile X-Ray Equipment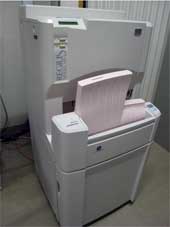 REGIUS MODEL190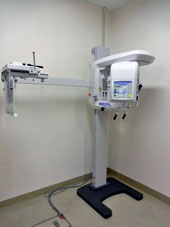 Veraviewepocs
Important Points
Please talk to your doctor or the engineer in charge if you are pregnant or have a possibility of being pregnant.
There are basically no issues outside the area to be imaged, but there may be some difficulties on your body during imaging. The following objects are to be removed, and you may have to change into examination clothes.

Metal products (necklaces, rings, watches, earrings, dentures, magnetic patches, bras, etc.)
Buttons, poultices, hand warmers, T-shirts (with rubber prints, lame (metal interwoven, etc.), wet diapers, etc.
Corsets, supporters, etc.

In addition to these, please feel free to contact us if you have any questions.
Q & A for general radiography
Q How long is the imaging time?

The imaging time depends on the part being imaged and the method of imaging.
Also, please understand that the order may differ depending on the patient's condition, etc.

Q Why do you shoot so many images at a time?

It is common to evaluate the angle and the direction in the body by obtaining multiple images with different views in order to make an accurate diagnosis.

Q Is it okay to shoot multiple images in a short period of time?

In the case of the patient whose progress is being observed, there may be a case where we need to take a picture every time there is an outpatient examination, and there may be cases where we would shoot images daily, depending on the symptoms.
The amount of radiation used for imaging is very small, but if you feel uneasy, please consult directly with your doctor or the attending physician.

Q I hear mammography is painful, but is it okay?

The pressure plate is set so that it does not press with more than a set pressure. Please feel free to talk with us if you have any questions. Please tell your technician if you feel a strong pain or anxiety.

Q What are some things to be mindful of when getting a mammogram?

In mammography imaging, we will image the parts including from the armpit to the breast. Because antiperspirant, powder, and lame (metal interwoven in the fabric) can be reflected in the image, please wipe it well before shooting the image. Antiperspirants and powders can appear very similar to small calcifications and masses. Please refrain from applying antiperspirant and powder on the day when you will be taking the image.