Regarding physiological function testing
A physiological function testing is performed in direct contact with the patient. (A reservation is required because the time required will depend on the contents of the examination.)
Our clinic conducts the following examinations.
Electrocardiogram exams
Time required for the examination
General electrocardiograms: 2 to 5 minutes
Holter ECG: Monitoring for 24 hours (2 visits required, for attaching and detaching the electrodes).
This is an examination to diagnose cardiac illnesses such as arrhythmia, myocardial infarction, and angina pectoris.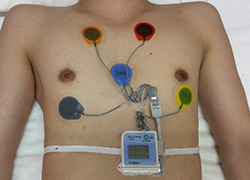 Holter ECG setting conditions
●Resting electrocardiogram

This is recorded with electrodes on the wrist, ankle, and chest in a state of rest.

●Holter ECG

The ECG recording is performed during daily activity. Bathing or swimming is not possible during the examination.
Plethysmography
Time required for the examination: about 15 - 30 minutes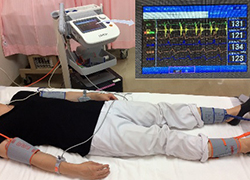 Plethysmography
This test examines the hardness and clogging of the blood vessels, which is the cause of arteriosclerosis.
The blood pressure is measured at both hands and both ankles at the same time while lying on the back.
Urea Breath Test
Time required for the examination: about 30 minutes
This is an examination to check whether you are infected with Helicobacter pylori.
The exhalations before and after taking a medicine are collected and inspected.
* There is a dietary limit for several hours before the examination. Please confirm this.
Respiratory function testing
Time required for the examination, about 10 - 45 minutes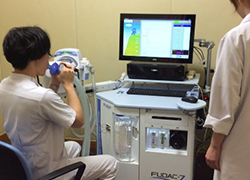 Respiratory function testing
This is a test for the presence of respiratory disease and an evaluation of pulmonary function before surgery.
The examination is performed by inhaling and exhaling according to rhythmic call-out.
The value changes greatly based on the patient's exertion. Thank you for your understanding and cooperation.
Electroencephalography
Time required for the examination: about 1 hour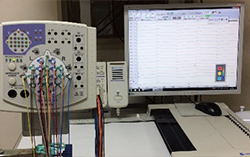 Electroencephalography
This is an examination to examine epilepsy, which causes convulsions and the loss of consciousness.
About 20 electrodes are placed on the head to record activity while closing the eyes in a resting condition.
* A sleep-introducing agent may be used if resting is difficult.
Neurophysiological tests
Time required for the examination
Nerve conduction: 1 hour
Electromyogram: About 30 minutes to 1 hour
This examines nerve and the muscular disease by stimulating with electricity or piercing with a needle.
This may cause some pain.
In addition to the above, we also conduct treadmill load electrocardiograms for measuring with an exertion electrocardiogram during exercise, and tests to find out if there is apnea during sleep.